Painting becomes Sculpture
In the course of the cinema series, the custom frames started becoming more and more a part of the piece. At first, it was just matching a frame to the theme of the scene in the movie.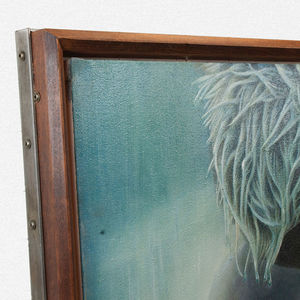 Starting with The Hero Dies (Blade Runner) I began building custom frames. The Hero Dies has a floating frame comprised of reclaimed Cherry wood, Iron, and brass rivets. I wanted to create something that would look at home in a Blade Runner set.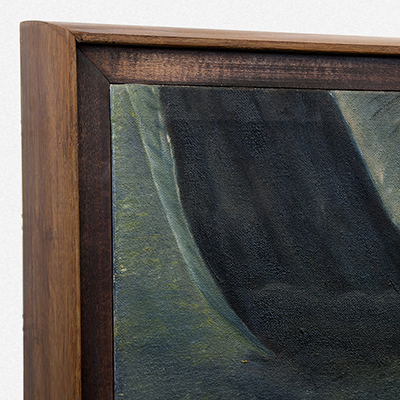 With New Perspective (Joe Vs the Volcano) with its themes of elegance and tropical, I created an inner frame of cherry and an outer bamboo frame.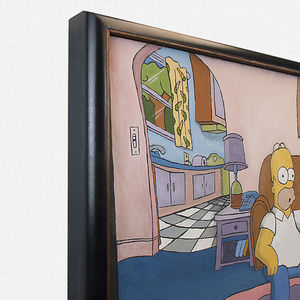 The Simpsons painting has a laminated black frame with a walnut inset. Evocative of a TV set.
From Frames to Sculpture
With Uneasy Rider (Easy Rider) the "frame" became a fully integral part of the piece.
The stretcher was built from antique oak and is finger jointed construction. A very common technique for antique American furniture.
The canvas itself then was dyed into an American flag flying in the distress position. The canvas curls off revealing the antique oak of the stretcher. The lower left corner where the road is heading is burnt to charcoal in reference to where "the road" is leading them. At this point, the piece is both an oil painting and a sculpture.
The line between Painting and Sculpture is fully blurred
With the Entrapment Series, I moved a step further. These paintings are on the back side. While there is still a subject, they are looking away from the viewer. The idea is that the subject is trapped within the painting and frame. The canvas is left raw. The antique frame shares equal status with the subject. And the canvas stretcher, nails are wire are all aged. The depth of the stretcher also plays an important role casting shadows and creating a sense that the person is "inside." An additional component to the "trapped" feeling is that the person is exactly life-size. Also, the canvas is intentionally claustrophobic and barely larger than the head. While it is still an oil painting on canvas, the central message is now expressed through sculptural elements.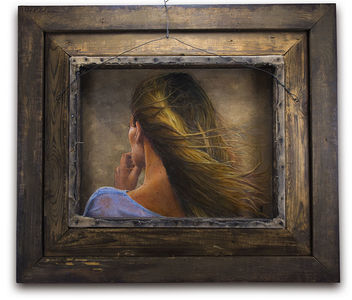 With Entrapment #2 I accentuated both the oil painting by adding more detail, color and emotion and with the frame by using an actual antique frame. This one has an even deeper stretcher that cast more shadows. Once again she is exactly life-size. She also touches all 4 sides of the stretcher further accentuating the claustrophobic feel. I also, kept the canvas a lighter shade to allow it to separate more from the frame. the canvas is still aged, however, its more a more distinct element than in the first painting. Finally, its a much more highly detailed painting, creating a better feeling of it being an actual trapped person.
What's next?
I'm already working on it...